Moscow responds to Commons statement by describing it as provocation and 'circus show'
Theresa May has said it is "highly likely" that Russia was responsible for the poisoning of former spy Sergei Skripal and his daughter, Yulia, and warned Britain would not tolerate such a "brazen attempt to murder innocent civilians on our soil".
In a statement to the House of Commons that triggered a furious response from Moscow, the prime minister said evidence showed that Skripal had been targeted by a "military-grade nerve agent of a type developed by Russia".
Describing the incident as an "indiscriminate and reckless act", she said that the foreign secretary, Boris Johnson, had summoned the Russian ambassador to Whitehall and demanded an explanation by the end of Tuesday.
Russian officials immediately hit back, with Maria Zakharova, the spokeswoman for the Russian foreign minister, calling the remarks "a provocation" and describing the event as a "circus show in the British parliament".
Andrei Lugovoi, a Russian member of parliament who stands accused of the 2006 murder of the former Russian agent, Alexander Litvinenko, said May's decision to point the finger at Moscow so quickly was "at a minimum irresponsible"
May addressed MPs after chairing a meeting of the national security council, where senior ministers were told that the nerve agent used was from a group known as Novichok.
"Based on the positive identification of this chemical agent by world-leading experts at Porton Down, our knowledge that Russia has previously produced this agent and would still be capable of doing so, Russia's record of conducting state-sponsored assassinations, and our assessment that Russia views some defectors as legitimate targets for assassinations, the government has concluded that it is highly likely that Russia was responsible for the act against Sergei and Yulia Skripal," she said.
May made clear that she believed there was already "a backdrop of a well-established pattern of Russian state aggression" – listing the illegal annexation of Crimea, violating the airspace of European countries and a "sustained campaign of cyber-espionage and disruption" including "meddling in elections, and hacking the Danish ministry of defence and the Bundestag, among many others".
She also spoke of the extrajudicial killing of terrorists and dissidents outside Russia and the murder of Litvinenko.
The home secretary, Amber Rudd, will chair a meeting of the government's Cobra emergency committee in Whitehall at 11.30am on Tuesday to discuss the latest developments in the Salisbury nerve agent investigation.
May said the government would consider Russia's response on Wednesday. "Should there be no credible response, we will conclude that this action amounts to an unlawful use of force by the Russian state against the United Kingdom," she said, promising to return to the house with a full range of responsive measures.
"This attempted murder using a weapons-grade nerve agent in a British town was not just a crime against the Skripals. It was an indiscriminate and reckless act against the United Kingdom, putting the lives of innocent civilians at risk. And we will not tolerate such a brazen attempt to murder innocent civilians on our soil."
The tough statement means that a major diplomatic row is looming between Moscow and London, with expulsions on both sides inevitable. Russia's hardline ambassador to the UK, Alexander Yakovenko, may well be sent home.
The Labour leader, Jeremy Corbyn, responded by saying the whole house condemned the "deeply alarming attack" and that a full account was needed from Russian authorities.
However, he warned against a full breakdown of communications with Moscow. "We need to continue seeking a robust dialogue with Russia on all the issues currently dividing our countries, rather than simply cutting off contact and letting the tensions and divisions get worse and potentially even more dangerous," he said.
Corbyn then turned to a political attack on the Conservatives, after reports that the party had accepted donations of more than £820,000 from Russian oligarchs since May took over the leadership. He asked why the government had not accepted a Labour-led amendment to the sanctions and anti-money laundering bill that would pave the way for so-called Magnitsky powers to punish human rights abuses with asset freezes and visa bans.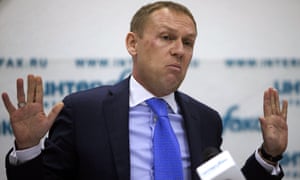 May responded that her government's simple approach to Moscow was: "Engage but beware." Setting out her previous attack on Russian interference in elections, she said: "There can be no question of business as usual with Russia."
In 2007, Gordon Brown kicked out four Russian diplomats in protest at Vladimir Putin's refusal to extradite Lugovoi and Dmitry Kovtun, the two assassins who put polonium into Alexander Litvinenko's tea. The Russian foreign ministry expelled four British diplomats.
On this occasion, Putin is likely to react badly to May's ultimatum. The UK's ambassador to Moscow, Laurie Bristow – the deputy ambassador at the time of Litvinenko's murder – is vulnerable.
Additionally, the Kremlin may take action against the BBC. When relations plummeted over Litvinenko, Moscow closed the St Petersburg office of the British Council and accused its director, Stephen Kinnock – now a Labour MP – of drink driving.
The use of Novichok – a deadly nerve agent developed in the 1970s and 1980s by the Soviet Union – will be seen as a brutal calling card. It was inevitable that the poison would be discovered, with a trail leading straight back to Moscow.
The attack came two weeks before Russia's presidential election on Sunday. The calculation may be that the Skripal case galvanises Putin's conservative base and boosts votes.
The reaction of backbench MPs to May's statement was largely supportive on all sides of the house. The Tory chair of the foreign affairs select committee, Tom Tugendhat, said the Salisbury attack was "if not an act of war … certainly a war-like act by the Russian federation".
Labour's Yvette Cooper, who chairs the home affairs committee, said it was hard to see any alternative to the prime minister's "very grave conclusion" but asked if any action had been taken to review 14 other cases that she had raised.
A number of backbench MPs criticised Corbyn for failing to speak out more strongly in the face of what they described as a national security threat. Iain Duncan Smith, the former Tory leader, said the prime minister had risen to the occasion, but that colleagues would be disappointed by the Labour leader's partisan attack. His Conservative colleague, Johnny Mercer, described the opposition response as a "shameful moment". Others argued that the time for dialogue with Moscow had run out.
The Ministry of Defence (MoD) is planning to accelerate and expand its cyber-offensive capability over the next five years in response to the present crisis with Russia, according to Whitehall sources.
The aim is to increase the UK's ability to strike back against selected targets in Russia and also other states regarded as hostile such as China, North Korea and Iran.
The MoD is also, in the wake of Salisbury, planning to spend more on chemical, biological, radiological and nuclear (CBRN) defence. The move is an acknowledgement that it has paid inadequate attention to the increased danger.
The White House condemned the attack on Skripal and his daughter and pledged support to its "closest ally" Britain, but repeatedly refused to drawn on who was responsible or even mention by Russia by name.
"We're been monitoring the situation closely, take it very seriously," said the press secretary Sarah Sanders, reading from a prepared statement. "The use of a highly lethal nerve agent against UK citizens on UK soil is an outrage. The attack was reckless, indiscriminate and irresponsible. We offer the fullest condemnation and we extend our sympathy to the victims and their families and our support to the UK government. We stand by our closest ally in the special relationship that we have."
A journalist at the daily briefing asked: "So you're not saying that Russia was behind this, then?"
Sanders parried: "Right now, we are standing with our UK ally. I think they're still working through even some of the details of that and we're going to continue to work with the UK and we certainly stand with them throughout this process."
Source: The Guardian